Expanded Cardiac Services in Muskogee Saving Lives
Tommy Swearengin wouldn't have gotten to celebrate his 43rd birthday this year if it weren't for a new cardiology service at EASTAR Health System.
"I wouldn't have been able to make it to Tulsa to have this operation done," Swearengin said.
A collaboration of EASTAR Health System and the Cardiology Clinic of Muskogee provides heart attack patients with services that were previously unavailable. Marvin Padnick, MD, interventional cardiologist and director of the ST-elevation myocardial infarction program (STEMI) at EASTAR, said, "Time is muscle. The faster you open an artery after a heart attack, the more likely you are to save that patient," Padnick said.
With more than 30 years of cardiology experience, Padnick made the move to Muskogee to start the STEMI program at EASTAR.
"I wanted to join a hospital where I felt I was making a significant impact," he said.
Read more of Swearengin's story in this Muskogee Phoenix article>>
---
---
Nurse Has High Opinion of Hospital's OB Service and Caring Physicians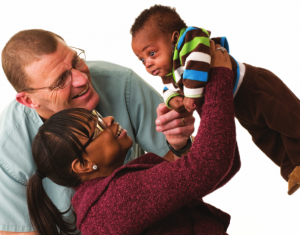 If you're looking for an expert opinion about childbirth, ask Ebony Moore. She's a nurse at Fort Sill's Reynolds Army Community Hospital, where she works in labor and delivery, primarily taking care of postpartum patients and their babies. She's also the mother of three children. So when Moore's third child, Justus, was born at Southwestern Medical Center, she had some definite opinions about the care she received.
"On a scale of one to five, I would definitely give the staff at Southwestern Medical Center a five plus," says Moore. "Because I had gestational diabetes, I was going to the hospital every other day either to have a stress test or because I was going into labor during the last two weeks of my pregnancy. As a result, I really got to know the staff. They were always very caring and patient. My obstetrician was Dr. Marty Jones. I've worked with him before and he's great. Justus was born four weeks premature and weighed only 5 pounds, 8 ounces, so having his expertise was very important to me."
Moore was so impressed with the care provided by the staff that she took the time to write a thank-you note to the staff. "Thanks so much for all your help and care during my pregnancy, delivery and postpartum care," she wrote in the letter. "Never could have done it without your help."
See Moore, Justus and Dr. Jones here>>
---
---
Back to Raking Leaves, Three Days After a Major Stroke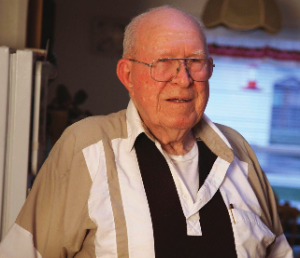 Three days after a stroke left 84-year-old Emil Evans paralyzed from the tip of his right toe to the tip of his right finger, he was back home raking leaves, thanks to an innovative partnership between Willamette Valley Medical Center and the OHSU Telemedicine Network. Evans was struck by a dizzy spell while standing in the kitchen of his home in McMinnville, Oregon. He was sweating profusely by the time he made his way to the living room and sat down.
His wife, Darrell, called 911 and soon they were in the emergency room of Willamette Valley Medical Center. Siobhan Gray, MD, immediately suspected Evans had suffered a stroke. "He had weakness on one side of his body. He knew what he wanted to say but couldn't form the words properly," Gray says.
Through a telemedicine cart that contained a video screen, she connected with OHSU neurologist Hormozd Bozorgchami, MD. The emergency team gave Evans a clot-busting medication, and he was transported to OHSU where the clot was removed using one of the latest stroke treatment devices.  Two days later, Evans was doing so well that physicians sent him home.
"They insisted I take a walker," Evans says. "I have no more use for a walker than a hog has for roller skates."
See Emil's story here>>
---
---
Police Officer Builds "Trusted Friendship" with Cardiologist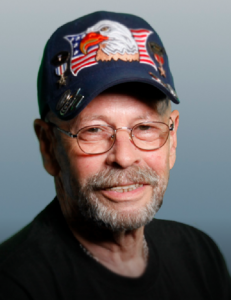 Through multiple heart procedures, 40-year veteran police officer, Johnnie E. Mann, has come to know Dr. Jeffrey Tauth very well.  Dr. Tauth is an interventional cardiologist who practices at National Park Medical Center in Hot Springs, Arkansas.
"Dr. Tauth has a God-given talent to treat people with serious heart problems, like myself, that he puts to good use.  I like that he truly wants to hear everything about my condition.  It's more than just being a doctor to him.  He's a trusted friend who has been a God-sent blessing to both me and my wife, Darlene."
See Dr. Tauth with Johnnie Mann here>>
---
---
Army Sergeant Awakens From Nap Paralyzed; Hospital Intervenes During Stroke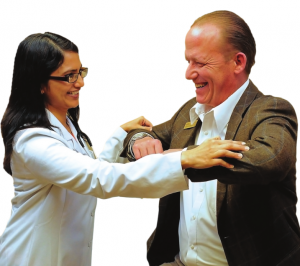 When Mark Winburn woke up from a nap last October, he knew immediately something was terribly wrong. "I couldn't move," he remembers. "My entire right side was paralyzed. My dog Sarge was going crazy and went to retrieve my wife Jeanne, who called 911."
Winburn was rushed to Southwestern Medical Center, where the hospital's emergency personnel went to work without delay. "I don't remember much, but my wife says there were three or four doctors and maybe a dozen nurses working on me."
After determining that Mark had suffered a stroke, Dr. Geetha Kandimala, a neurologist with Southwestern Medical Center, quickly decided to give Mark a clot-busting drug. It worked. When Winburn woke up the next morning, he was astonished to find he could stand up and walk down the hallway.
"It was a miracle!" says Winburn, a retired Army First Sergeant with 24 years of service. Less than four months after his stroke, Mark returned to full-time work as a retirement services officer for the Army.
See Winburn with Dr. Kandimala in this ad>>
---
---