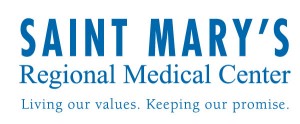 Saint Mary's Regional Medical Center
Website Address: www.saintmarysregional.com
Printable Fact Sheet: Saint Mary's Regional Medical Center
Contact Information: 479-968-2841
Saint Mary's Regional Medical Center
1808 West Main Street
Russellville, AR 72801
Welcome to the Natural Choice in the Natural State. Welcome to Russellville, Arkansas. Located on the banks of the Arkansas River, between the Ozark and Ouachita Mountains, this family friendly community is surrounded by forest-covered mountains and crystal clear streams.
The Hospital
Saint Mary's Regional Medical Center is a 170-bed facility, accredited by The Joint Commission. Saint Mary's has been serving the Arkansas River Valley for more than 85 years and currently has 77 active physicians on the medical staff. Saint Mary's offers a wide range of medical services, including Women's and Children's Services, Cardiac Catheterization, Diagnostic Cardiac Services, Inpatient Physical Rehabilitation, Orthopedics, Outpatient Therapy Center, Sleep Study Lab, Hyperbaric Wound Care, Comprehensive Cancer Center, Senior Services, Inpatient and Outpatient Surgery, Diagnostic Imaging, Adult Behavioral Health, MSICU, 24-hour Emergency Services and Home Health.
The Community
Downtown Russellville has benefited from a major redevelopment program in recent years, and the city now serves as the business, government and cultural center for the Arkansas River Valley. The revitalized downtown area features a newly restored historic Downtown Depot, with a Visitor's Center and railroad museum. Each October, the Main Street Russellville Downtown Fall Festival is celebrated, and Valley Fest, held in June, attracts more than 25,000 people for food, games and music. The Potts Inn Museum is one of the best preserved stagecoach stations on the Butterfield Overland mail route. Education is an important part of community life. The Russellville School District has more National Board Certified teachers than any district in Arkansas. The city is also home to Arkansas Tech University, which offers both undergraduate and graduate programs in a variety of academic disciplines.
Recreation
Located in the foothills of the Ozark Mountains, Russellville offers abundant opportunities for the outdoor and recreational enthusiast. It's all here: mountain bike riding, water skiing, hiking, horseback riding, hang gliding, fishing, canoeing, kayaking, boating, swimming, camping, rock climbing and more! There are 12 city parks and three golf courses, and four state parks are located within 30 minutes of the city.
Lake Dardanelle State Park features numerous waterside campgrounds and recently opened a new Visitor's and Aquatic Center, a $2.4 million, 10,000-square-foot facility with four large aquariums. Covering 34,000 acres, Lake Dardanelle is famous for it bass fishing, hosting over 50 tournaments annually. At 1,350 feet, Mount Nebo delivers breathtaking views of the Arkansas River Valley. Fourteen miles of trails encircle the mountain, which is part of Mount Nebo State Park. There are 35 campsites and 14 fully equipped cabins. Passing through Russellville is State Highway 7, designated as part of the National Forest Scenic Byways and offering beautiful mountain scenery and fall colors.
Local Points of Interest
Ozark Mountains – offer abundant opportunities for mountain bike riding, water skiing, hiking, horseback riding, fishing, canoeing, kayaking, boating, swimming, camping and rock climbing
Lake Dardanelle State Park – home of Lake Dardanelle, famous for its bass fishing, and a new $2.4 million Visitor's and Aquatic Center
Mount Nebo State Park – 14 miles of trails that offer breathtaking views of the Arkansas River Valley
Distances To Major Cities

Hot Springs, Arkansas – 72 miles
Little Rock, Arkansas – 74 miles
Fort Smith, Arkansas – 84 miles
Memphis, Tennessee – 205 miles
Saint Mary's Regional Medical Center
1808 West Main Street • Russellville, Arkansas 72801
Population: 26,014 • Service Area: 66,746