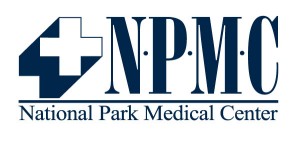 National Park Medical Center
Website Address: www.nationalparkmedical.com
Printable Fact Sheet: National Park Medical Center
Contact Information: 501-321-1000
National Park Medical Center
1910 Malvern Avenue
Hot Springs, AR 71901
Located in the gently rolling Ouachita Mountains, surrounded by clear lakes and the historic Ouachita National Forest, the community of Hot Springs offers a unique combination of natural beauty, cultural life and historical interest.
The Hospital
National Park Medical Center is a 166-bed acute care facility that provides service to a five-county area, including Garland, Hot Springs, Montgomery, Pike and Clark counties. The facility, accredited by The Joint Commission, provides a wide range of services, including The Heart and Vascular Center, Digital Mammography Services, Center for Sleep Disorders, Rehabilitation, ICU, Emergency Services, Diagnostic Imaging Services, Physical Therapy, Outpatient Services, Cardiac Rehabilitation, Pediatrics, The Family Maternity Center, Home Healthcare, Medical and Surgical Nursing Units and a Skilled Nursing Facility.
The Community
Known as America's First Resort, Hot Springs is a city alive with activity. Downtown features a number of art galleries and antique shops and serves as host for the nationally recognized Hot Springs Documentary Film Festival and Hot Springs Music Festival. Oaklawn Park is the site of exciting thoroughbred racing, and Garvan Woodland Gardens is a magical 210-acre botanical garden surrounded by Lake Hamilton. The Hot Springs Convention Center is a state-of-the-art concert and sports arena, and the Magic Springs and Crystal Falls Theme and Water Park offers summertime family fun and a summer concert series.
Hot Springs National Park, the first federally protected area in the nation's history, features 147-degree thermal water flowing year round from 47 hot springs. From pre-historic times, people have traveled to these natural thermal springs to bathe and relax. The centerpiece of Hot Springs National Park is Bath House Row. Originally built in 1832 and now recognized as a National Historic Landmark District, it features eight bath houses and is an architectural showcase for a wide range of styles, from Neoclassical Revival and Renaissance Revival to Spanish and Italianate.
Hot Springs is home of the Arkansas School for Mathematics, Sciences and Arts (ASMSA), the premier high school in the state. At this public residential high school, academically advanced juniors and seniors are taught at a college level, using only college textbooks, by a highly qualified faculty.

Recreation
Hot Springs is surrounded by abundant opportunities for camping, mountain biking, hiking, horseback riding and water skiing. There are 17 championship golf courses in the area and four major tournament lakes for fishing. The mountains surrounding the city are part of the Ouachita National Forest, one of the oldest and most scenic in the nation, with plenty of trails that take avid hikers to spectacular overlooks. Within the city, there are 19 parks and seven miles of hiking trails.
Local Points of Interest
Downtown Hot Springs – known as America's First Resort, features a host of art galleries and antique shops
Oaklawn Park – thoroughbred racing & home of the "Racing Festival of the South"
Hot Springs National Park – 147-degree thermal water flowing from 47 hot springs. Includes Bath House Row, a National Historic Landmark
Championship Golf Courses
Theme Parks – Magic Springs and Crystal Falls
Distances To Major Cities

Little Rock, Arkansas – 54 miles
Texarkana, Arkansas – 111 miles
Fayetteville, Arkansas – 185 miles
Memphis, Tennessee – 188 miles
National Park Medical Center
1910 Malvern Avenue • Hot Springs, Arkansas71901
Population: 38,468 • Service Area: 195,000