Physician Leadership Groups play key role
At Capella's family of hospitals, physicians are integrally involved in providing leadership where they practice. In addition to leadership roles on the medical staff and with hospital committees, physicians are also a vital part of each hospital's Board of Trustees. Together with members of the community and hospital leadership, physicians provide guidance and are vital strategic partners.
In addition to traditional Board and medical staff leadership opportunities, each hospital also has a Physician Leadership Group (PLG). With 6-10 members representing a cross-section of its medical staff, the PLG provides input to hospital leadership on all aspects of operations, including strategic development, key initiatives, quality improvement, and constituency satisfaction (physicians, patients and employees).
The leader of the local PLG also serves on Capella's National Physician Leadership Group (NPLG). To learn more about the current members of the NPLG, click here>>. The NPLG brings the medical staffs' perspective to the table as decisions that impact every hospital are evaluated.  For example, one of the most important decisions the NPLG has made was the selection of The Advisory Board's Crimson Clinical Advantage as the tool through which they would address physician performance improvement.  This web-based technology solution has proven to be a valuable tool in helping providers advance quality goals while delivering efficient, compassionate care.
Physician Leadership Resources
Capella Healthcare partners with industry-leading companies to provide expanded resources to support our physicians who currently serve as leaders or are considering entering into a defined position or role. Below is an overview of a few of the vendors, with links to resources available to assist medical staff members who are serving in leadership roles.
Advisory Board Company
Capella is a member of The Advisory Board which provides research and decision-support guidance on hospital and health system strategy, operations, and clinical management. They offer a host of best practice research, teleconferences, tools and presentations addressing today's most pressing issues.  For physician development, Capella specifically invests in the Physician Leadership Academy and Crimson Clinical Advantage.
Physicians who have a Capella Healthcare email address can set up an account to access all of The Advisory Board resources through their website.  Others can call 615-764-3010 or email [email protected] for assistance.  Physicians who prefer to access documents here or would like a copy of one of the below, may email [email protected] for a password.  Documents available from the Physician Executive Council address the topics of leadership, governance, peer review, and credentialing/privileging. Reports include:
Crimson Clinical Advantage
Capella's National Physician Leadership Group chose The Advisory Board's Crimson Clinical Advantage as the tool through which physicians would address physician quality performance improvement. This web-based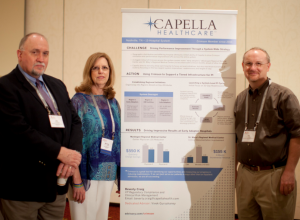 technology platform integrates data from a variety of sources to help physicians better manage patient quality and costs across various care settings.
Thanks to physician leadership, the initiative has been a solid success. Two of Capella's hospitals were featured in an Advisory Board conference, invited to share how physicians and staff have successfully used Crimson Clinical Advantage to improve care and develop new protocols that reduced length-of-stay. Shown on the right are (from left) Jay Gregory, MD, Chief Medical Officer at EASTAR Health System; Beverly Craig, RN, VP-Regulatory and Clinical Administration for Capella; and Tim Copeland, Chief Quality Officer for Saint Mary's Regional Medical Center.
Studer Group
The leading national company working with health care providers to improve patient satisfaction and quality outcomes, the Studer Group provides tools, guidance, training and other resources to assist physicians and hospital staff.  Learn more at the StuderGroup website here>>.
Physicians with a Capella Healthcare email account can set up an account to access the Capella-specific Studer webpage here>>. Medical staff leaders who would like to arrange for a consultation, access additional resources, or need assistance in setting up an individual account should call 615-764-3010 or email [email protected].
To learn more about resources and other vendor partners available to Capella's family of hospitals, visit Equipping our Leaders>>.
Other Resources
Here are a few other resources physicians have found useful, though not official partners of Capella Healthcare.
Horty Springer – Horty, Springer & Mattern, based in Pittsburgh, has, for the past 40 years, worked with physicians, hospitals and health systems in all 50 states. Named one of the nation's Top Ten Health Law Firms for several years, Horty Springer provides a robust free resources section on its website as well as a free weekly email newsletter. The Health Law Links section makes accessing other web resources easy.  To access their website, click here>>
HCPro – With more than 20 years of experience, HCPro, Inc. is a leading provider of integrated information, education, training, and consulting products and services in the areas of healthcare regulation and compliance. HCPro focuses on providing its clients assistance and expertise in the areas of long-term care, accreditation, medical staff affairs, credentialing, privileging, medical record management, regulatory compliance, nursing, quality/patient safety, infection control, and workplace safety. To access their web resources focused on the medical staff, click here>>