JAMA: Â Hospitals converting from nonprofit to investor-owned emerge stronger, better able to serve communities
A new empirical study released in the Journal of the American Medical Association (JAMA) sets the record straight on the issue of for-profit hospital conversions, dispelling myths about the impact of these efforts to maintain access to care in communities with struggling hospitals.  In the study "Association Between Hospital Conversions to For-Profit Status and Clinical and Economic Outcomes," an analysis of data from for-profit hospital conversions shows that these hospitals maintain access to care, improve quality metrics, increase nurse staffing ratios, and, the study concludes, improve financial performance.
The study measured hospital performance by three factors: financial performance, quality of care and outcomes and measures of patient population. Read more here>>
What are the differences between nonprofit and for-profit hospitals?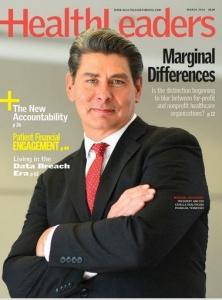 That's just what Health Leaders magazine explores in its March 2016 issue, which features a photo of Capella Healthcare President and CEO Michael Wiechart on the cover. "At Capella, we do not believe there are significant differences between for-profit – or taxpaying – hospitals and nonprofit hospitals," he says. "In fact, that line of differentiation has become exceptionally blurred in recent years. Both of us share the mission of delivering the highest–possible quality of care. And both of us must make a sustainable bottom line in order to achieve the mission and to expand care for the future.  We are both held accountable on our quality of care, our ability to be good stewards of the operations, and to make our organizations great places to work for both employees and physicians. While each operates by some slightly different rules and regulations based on our business or tax structure, both of us have all of the same goals and challenges."  Read the entire article here>>
Forging partnerships that make communities better
Capella's focus on forging partnerships that make communities better is the cover feature of the May-June issue of HCE magazine. "We are differentiating Capella through quality and – because we are a smaller company – every single hospital in our family is vitally important," said President and CEO Michael Wiechart. "So we aren't looking to acquire hospitals simply for the sake of growth.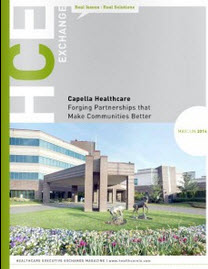 If we can't add value for the hospital and the community, then we're not going to waste our time or theirs."
"In our work with non-profit and faith-based hospitals in a number of markets, we've been able to demonstrate objectively that our hospitals' policies and procedures on charity care as well as the percentage of uncompensated care we provide is virtually identical to theirs," Wiechart said. "Frankly, this surprises a lot of people. Additionally, we reinvest 100 percent of net cash flow back into our hospitals. Aggressively addressing those areas of misconception is especially important to our employees and physicians."
See the article here: Forging partnerships that make communities better
Why Capella?
The Strength to Lead
Now more than ever, hospitals must have strong partnerships in place to be able to thrive and to continue improving care in the era of healthcare reform. Visionaries find Capella's business strategy solid, not just in the words we use to describe it, but in how we successfully execute it. In fact, Capella Healthcare has twice been named by Modern Healthcare magazine as one of the nation's fastest growing health care companies.
We understand the complex dynamics of the delivery of healthcare, hospital growth and expansion of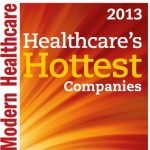 services. It is our depth of hospital experience that gives us the ability to see new opportunities and build long-lasting relationships with hospitals and communities so that, working together, we can look to the future with confidence.  Perhaps even more importantly, we also understand what hospitals value most in a partnership.  Read more>>
Capella provides hospitals with the strength to lead in three critical areas.
Financial Strength
Staying on the cutting edge of medicine is essential for any hospital seeking to remain competitive. Unfortunately, the high cost of technology prohibits many hospitals from keeping up with the latest advances.
Capella possesses the financial strength that empowers hospitals with the ability to expand services, add new facilities, recruit needed physicians, and obtain the latest medical technology. Indeed, we bring to the table significant capital resources, thanks to our partnership with Medical Properties Trust (MPT):  Capella positioned for future growth and expansion
Capella reinvests 100% of net cash flow back into its family of hospitals to strengthen and expand services and facilities.
Management Strength
The challenges of hospital management have never been so daunting, or so complex. Proven experience is critical to balance the equally important demands of mission and margin, of providing the best in patient care while remaining fiscally fit. From physician recruitment to managed-care contract management, Capella brings both expertise and efficiency to every aspect of hospital operations.
Here's one testimonial from long-time family practitioner Dr. Alan Drake who expressed his appreciation for the relationship with Capella. "Several years ago when Capella purchased this facility and came to us and said we want to create a partnership, the feeling among the medical staff was 'prove it.' And to put it succinctly, they did. Capella proved it with their transparency and their willingness to commit dollars and time to deliver the quality and make the facility successful."
Community Strength
At Capella, we understand the vital role your hospital plays in your community. Healthcare is an essential service, one that clearly impacts the quality of life and the economic vitality of your community. That's the reason Capella works closely with community leaders, hospital boards, physicians and employees to build just the right relationship—whether it's a long-term lease, a joint venture with community organizations as owner-partners, or a full purchase agreement.
Then, to remain responsive to the needs of your community, the hospital's governing body always includes community leaders and members of the medical staff.
Finally, to strengthen our bonds with the community, Capella hospitals:
Adopt a comprehensive Ethics & Compliance Program that sets standards and establishes accountability;
Meet the requirements for certification or accreditation by The Joint Commission, state licensing boards and the Center for Medicare and Medicaid Services (CMS);
Provide ongoing care for the indigent and the uninsured;
Contribute to both the state and local tax base.
Capella's strategy is to build strong local brands versus branding the corporate name.
What we believe
For hospitals who are looking for a strong partner for future challenges, there are seven facts that we believe should guide their thought process, as they do ours.
Healthcare is always local.
"Cookie cutter" doesn't work.
Healthcare is hard. And it's becoming even harder.
You need money, expertise and community support to make it work.
Change is hard.
Working together equals success.
Focus first on quality, not because it will help you grow, but because it is the right thing to do. Without quality, nothing else matters. With it, you are able to attract and retain the best and brightest. And as you become the employer of choice, you become the provider of choice.