Click Here for a Printer-Friendly PDF >>
Partnership with UW Medicine takes care to next level
Growth leads to partnership with nationally renowned partner
Located in the Olympia, the capital city of the state of Washington, Capital Medical Center is one of Capella's legacy hospitals.  The hospital has grown exponentially, thanks to millions in investments from Capella in concert with committed physicians and collaborative leadership. And in 2014 they've taken care to the next level , partnering with nationally renowned UW Medicine.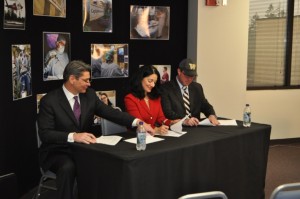 "Our hospital has grown significantly over the last few years, adding a new neurosurgery program and a diagnostic imaging center, as well as other services and physicians," says CEO Jim Geist. "In fact, since 2005 approximately $30 million has been invested at Capital Medical Center.  This partnership is the next logical step in our journey. Collaborating with UW Medicine enhances our ability to achieve our goal of ensuring that our patients have seamless access to the highest quality of care."
The collaboration positions UW Medicine as the healthcare system of choice for complex tertiary and quaternary care for Capital Medical Center patients. This partnership also enables the two organizations to work together to continue improving the quality, safety and cost effectiveness of care throughout the South Sound.
"This collaboration will support UW Medicine's mission to improve the health of the public by providing seamless access to the world-class clinical services UW Medicine is known for," said Paul Ramsey, M.D., CEO of UW Medicine. "Such collaborations are vital in the process of achieving healthcare reform's Triple Aim – improving healthcare for individuals, improving health for populations, and reducing the per-capita costs of healthcare."
To thrive in the future, all hospitals will have to have the right strategic partners.  It's Capella's goal to make sure its hospitals affiliate from a position of strength.   "This strategic partnership with UW Medicine is an important step for both Capital Medical Center and for the South Sound region," said Michael Wiechart, President and CEO of Capella Healthcare. "This partnership marries a top academic medical center that has very strong primary care resources with a best-in-class community hospital. I believe this unique collaborative partnership will become a case study for how an outstanding community hospital can provide world-class care without compromising the unique attributes for which it is most appreciated – compassionate personal care, delivered close to where people live and work."
Capital has long been recognized as a high quality health care provider as well as a valued community leader.  In fact, the hospital has earned several recent awards that attest to these facts, including:
Thurston County Project Access recognized Capital Medical Center for contributing more than $2.1 million in donated medical care to low income, uninsured individuals with an acute or urgent medical need from 2010-2013.
The Thurston Economic Development Council selected Capital Medical Center as a one of three finalists in the Corporate Employer category for their annual Business Recognition Awards.
The Washington State Hospital Association recognized Capital Medical Center as part of their Partnership For Patients initiative to reduce patient harm in ten key areas. To date, CMC has achieved the goal of zero — earning a gold star — in the eight patient safety areas: adverse drug events, catheter-associated urinary tract infections, central line-associated blood stream infections, obstetrical adverse events, pressure ulcers, preventable readmissions, surgical site infections and ventilator-associated pneumonia.
They earned the Blue Distinction "Total Value Designation" for both knee/hip replacement surgery as well as spine surgery.
Capital was ranked #1 in Washington for Medical Excellence for both Orthopedic Care and Major Neurosurgery by CareChex (the rating service of the Delta Group) in 2012.
The future is bright for Capital Medical Center.  They're currently undergoing a $9 million renovation project starting with a major expansion of women's services.  Rooms are being converted into new labor, delivery, recovery and postpartum rooms, increasing the number of birthing suites as well as adding new equipment to the nursery.
On the first floor, Capital Medical Center is expanding the number of operating suites and increasing the size of existing operating rooms. The expansion includes three new operating rooms, larger pre-op and post-op areas and increased capacity for Central Sterile Services. The new operating rooms were
designed to better handle specialized surgical equipment.
The first floor also is getting renewed space for the pharmacy and administrative offices. And, on the second floor, improvements will be made to the ICU.