Click Here for a Printer-Friendly PDF >>
Employees and physicians enjoy serving at SWMC
One of the nation's best places to work in healthcare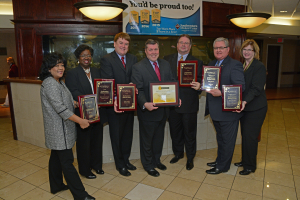 Southwestern Medical Center in Lawton, Oklahoma, has made remarkable strides since joining the Capella Healthcare family of hospitals as one of its four legacy hospitals in 2005. Celebrating its 108th year of service to the community in 2016, SWMC is a two-campus hospital, with one facility dedicated to caring for psychiatric patients.
The hospital recently received Capella Healthcare's top honor – The Star Award.  The award is presented to the hospital that has excelled in all five of the company's operational pillars:  Quality, Service, People, Growth and Finance.
In terms of quality, SWMC is the first and only Joint Commission Certified Primary Stroke Center in Southwest Oklahoma. They've also earned five consecutive accreditations from CARF (Commission on Accreditation of Rehabilitation Facilities). And, they've made steady and sustained progress on Core Measures.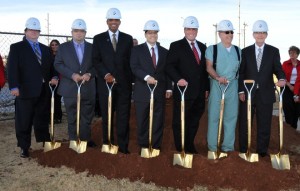 In patient satisfaction, they've made strides in every area.  Emergency patients, in fact, would strongly recommend the ED to their family and friends, according to recent surveys, rating the hospital significantly higher on this question than the average hospital (HealthStream database 61% vs. SWMC 72%).  But there's still significant room for progress, and they are working hard.
With physician satisfaction, SWMC had a very impressive 94% response rate in 2013 to the medical staff survey.  And, they've moved from the 3rd to the 53rd  percentile ranking for overall satisfaction in four years with an "overall positive satisfaction" rating of 96%.
In the areas of growth & finance, this hospital has experienced significant growth in recent years, and in fact, received Capella's award for highest EBITDA achievement in two of the last three years.  Recently they've grown even more, thanks to the purchase of two freestanding Imaging Centers and the opening of a brand new  $4.5 million Surgery Center in the fall of 2014.

But, in the People Pillar, this hospital has truly excelled.  Even while converting to a new electronic health record system and making great strides in quality and satisfaction, Southwestern has significantly improved employee satisfaction.  Since 2010 – when their current CEO Steve Hyde took over – they've moved from the 18th to the 77th percentile for
overall satisfaction.  Perhaps most impressively, they even received two "best workplace" honors in 2013.  They were named by Becker's Hospital Review as one of the nation's "100 Best Places to Work in Healthcare" and by The Oklahoman as a "Top Workplace" in the state.
SWMC is very active in the community, sponsoring an annual Wellness Expo with the Chamber of Commerce, offering free annual sports screenings for high school athletes, and hosting a Fitness competition and Road Race –the Southwest Scorcher– to raise money for the Wounded Warrior program at Fort Sill.  Additionally, they host the Pride Gallery, showcasing the works of local artists at the hospital.
This is a team that knows how to have fun (and realizes that having fun makes an important message stick). Training on best practices such as hourly rounding and AIDET has played a vital role in the improvement of their patient satisfaction scores.
"We strive to be as transparent as possible in our leadership style," says CEO Steve Hyde. "We focus on teamwork and the importance that each and everyone has in delivering great care.  We candidly talk about the good, the bad and even the ugly so that we are clear on our opportunities.  And we believe that healthcare is fundamentally a team sport."
Recognized by patients for their quality care, by the community for their service, and nationally as an outstanding place to work, SWMC is truly one of the nation's great hospitals.