Want to learn more about Capella Healthcare and our family of hospitals?  You've come to the right place.  In the "News Releases" section, you'll find copies of the news releases we've distributed as well as other articles we've published.  The "In The News" section includes links to the latest news that's been published about Capella Healthcare and our hospitals, as well as about the outstanding associates who choose to work with us.  Because people are our priority, we've highlighted a few of those articles in the "Recognition and Awards" section.  And you can read copies of our quarterly newsletter in the "Capella Connections" section.
---
Hospital and Leadership Awards
---
Featured News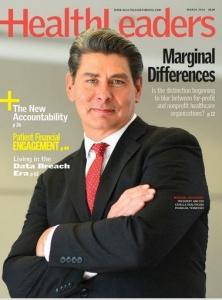 What are the differences between nonprofit and for-profit hospitals? That's just what's explored in the March issue of Health Leaders magazine, which prominently features Capella Healthcare President and CEO Michael Wiechart. "At Capella, we do not believe there are significant differences between for-profit – or taxpaying – hospitals and nonprofit hospitals," he says. "In fact, that line of differentiation has become exceptionally blurred in recent years. Both of us share the mission of delivering the highest–possible quality of care. And both of us must make a sustainable bottom line in order to achieve the mission and to expand care for the future. We are both held accountable on our quality of care, our ability to be good stewards of the operations, and to make our organizations great places to work for both employees and physicians. While each operates by some slightly different rules and regulations based on our business or tax structure, both of us have all of the same goals and challenges." Read the entire article here>>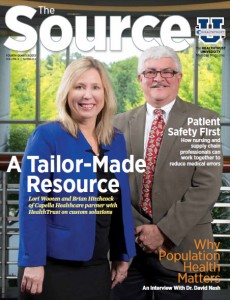 Capella Healthcare featured in HPG's Source Magazine:  Capella Healthcare was recently featured in two articles in HealthTrust Purchasing Group's quarterly magazine Source.  Lori Wooten, SVP, CFO-Hospital Operations, and Brian Hitchcock, VP-Materiel Resource Operations, are pictured on the cover promoting a feature article about Capella's relationship with HealthTrust.  Using the company more as a co-sourcing partner than a GPO has helped Capella operate efficiently.  "It doesn't make sense for us to build a large infrastructure … infrastructure that would add significant cost to our hospitals," says Wooten.  "But we still need that expertise for our facilities, and that's why we partner with HealthTrust."
Another article inside features Al Smith, SVP, Chief Information Officer, who discusses the benefits of partnering with Parallon Technology Solutions, an alliance that has been in place since the company's founding more than eight years ago.