Capital Medical Center
Website Address: www.capitalmedical.com
Printable Fact Sheet: Capital Medical Center
Contact Information: 360-754-5858
Capital Medical Center
3900 Capital Mall Drive SW
Olympia, WA 98502
Welcome to a land of snow-capped mountains and towering Douglas firs, of mild winters and warm summers. Located on the southern tip of Puget Sound, just 60 miles south of Seattle, Olympia is the capital of the state of Washington and a city of astounding natural beauty.
The Hospital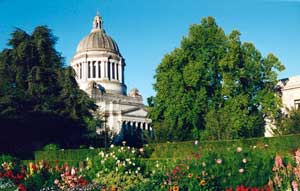 Capital Medical Center is a 110-bed full-service hospital. Licensed by the State of Washington and fully accredited by The Joint Commission, the hospital provides 24-hour emergency care in a Level IV Trauma Designated Facility. The hospital features a Level I Newborn Nursery and Birthing Suites specially designed for Labor, Delivery, Recovery and Postpartum (LDRP). There's an Outpatient Pre Surgery Clinic, six Surgical Suites, an Ambulatory Center (same-day surgery) with 20 private rooms, a Cardiac and Pulmonary Rehab Program and an Intensive Care and Critical Care unit with advanced monitoring and equipment. The 24-hour full service Laboratory is accredited by College of American Pathologists. The Mammography program is accredited by the American College of Radiology. A full-service Radiology Department features MRI, Spiral CT Scanner with 3D capability, Diagnostic Ultrasound, Echocardiography and Nuclear Medicine. Programs in Physical & Occupational Therapy include Specialized Hand Therapy, Lymphedema, Fibromyalgia, Vestibular Rehab and Balance, Sports Medicine Services and Urinary Incontinence. The hospital's Joint and Spine Center is part of a comprehensive Orthopedics program. The Community Hospital Comprehensive Cancer Program, certified by American College of Surgeons, includes medical oncology, chemotherapy and radiation therapy.
The Community
Conveniently located on Interstate 5, Olympia was listed #10 on the 2007 Forbes Magazine list of Best Places for Business and Careers. Downtown Olympia features a charming historic district, with a mall district on the Westside and a waterfront Farmer's Market. Percival Landing, the city's one-mile waterfront boardwalk, is a relaxing place to eat or shop. Olympia is home to Evergreen State College, one of the nation's best liberal arts schools, and South Puget Sound Community College. Saint Martin's University is located in nearby Lacey. There are 27 city parks, and a public art collection valued at over one million dollars. Olympia is a green city, with bike lanes on seventy percent of the city streets. Whatever art form moves you, Olympia's talented performers showcase their craft in our historic theaters and galleries, and in live music productions. From up and coming bands to symphonic melodies of an orchestra, you will walk away with an unforgettable experience.
Recreation
Located on Puget Sound, Olympia is the perfect location for anyone who loves The Great Outdoors. The rugged Olympic Mountains, Olympic National Park and snow capped Mount Rainier are all close by. Nisqually Wildlife Refuge features world class bird-watching on its 3,000 acres of salt and freshwater marshes. The Woodard Bay Natural Resource Conversation Area includes 678 acres of habitat, ranging from shoreline and marsh land to forest. Enjoy forest solitude in Olympia's 153-acre Watershed Park, home to owls, deer and salmon, or go kayaking at Hope Island State Park. For professional sports fans, Olympia is a short hour's drive to Seattle where baseball's Mariners, basketball's SuperSonics and Storm, and football's Seahawks play their home games.
Distances To Major Cities

Tacoma, Washington – 25 miles
Seattle, Washington – 60 miles
Portland, Oregon – 110 miles
Spokane, Washington – 320 miles
Capital Medical Center
3900 Capital Mall Drive SW • Olympia, Washington 98502
Population: 44,645 • Service Area: 92,000