Celebrating Service to our Communities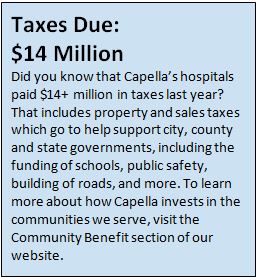 Each of Capella's affiliated hospitals – as well as employees, physicians and volunteers – donates time, leadership skills and dollars to make their communities better places in which to live. Our staff's service – inside and outside the walls of the hospital – is truly remarkable.
Additionally, each hospital publishes a Community Benefit Report which provides an overview of the contributions they've made to their community. These reports provide a summary of taxes paid, charity and uncompensated care provided and investments in the community, including physicians recruited. The hospitals also reflect on the time, dollars and other resources given to support their community's charitable organizations, schools, Chambers of Commerce, and economic development initiatives. Visit the Community Benefits section of our website to learn more.
Not only are our hospitals caring for the health of those they serve, they're improving the health of their communities. Here are a few examples.
A Heart for Kids
Making "good siblings" for new babies
Bringing a new baby home is always exciting and sometimes challenging for siblings. That's why each month, Saint Mary's Regional Medical Center in Russellville, AR, hosts "Good Siblings," a fun and interactive class specially created for brothers and sisters of a new baby. It's a great way for them to learn how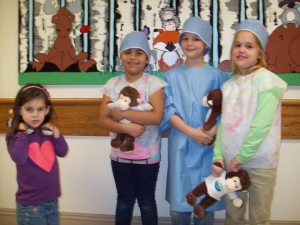 to be a "good" big brother or a "good" big sister.
Children who participate in the class receive keepsake items including a plush toy and their very own bag to take to the hospital, just like mom. The bag contains coloring sheets, and "My Little Brother" or "Sister" cards. Upon completion of the class each child will receive a certificate of achievement during the "cap and gown" presentation. The free program is held on the second Monday of each month, and includes a tour of Saint Mary's labor and delivery unit, nursery and post-partum areas. Siblings learn much about what to expect during their family's hospital stay and how to safely interact with the newest addition.
Care Apprentices program offers mentoring
Through its Care Apprentices program, Carolina Pines Regional Medical Center in Hartsville, SC, offers a health care career mentoring program each summer designed to introduce the industry to bright, enthusiastic students from surrounding counties.
"We developed the Care Apprentices program to establish the necessary foundation and support to assist students both practically and scholastically," said Director of Education Lori Rivers. "Through their participation, we provide exposure to a wide variety of potential career choices in the health care field enabling them to better determine their specific area of interest. "
The selection process includes an essay written by each student explaining why he or she is interested in the healthcare field and a follow-up interview. Selected students attend orientation and then shadow in various areas of the hospital over a four-week period.
Teaching Good Health Habits
Educating children
EASTAR Health System's Auxiliary and Volunteers recently sponsored the 32nd annual "Let's Play Hospital" program for approximately 800 first-graders in Muskogee, OK. The program is designed to alleviate fears of children who may need to come to the hospital for surgery. The program feature's the hospital's mascot Well Wabbit.
A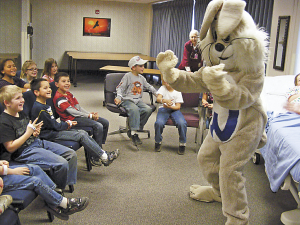 dditionally, the EASTAR Cancer Center partnered with Dr. James Beebe, a family medicine and wound care physician, to educate area youth on the dangers of tobacco use. Dr. Beebe involves the students by performing experiments depicting the effects of smoking on breathing and destruction of lung tissue. The children also participated in a "No Smoking" poster contest with prizes awarded to the top three.
Keeping hearts healthy
National Park Medical Center in Hot Springs, AR, sponsors the American Heart Association's annual Sweetheart program each year in conjunction with the annual Heart Ball. The AHA Sweethearts are a group of high school sophomores and juniors who make a commitment to learn about cardiovascular disease and lead healthy lifestyles by participating in numerous heart healthy activities over a four-month period.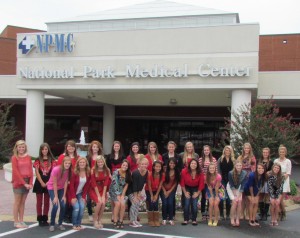 The Hot Springs AHA Sweetheart program began in 2007 when Kathryn and Paul Russell were seeking a way to raise awareness about heart disease in young women after the sudden and tragic loss of their daughter, Caroline Grace, to a suspected undetected heart condition. The one Sweetheart who demonstrates the most dedication to the program and the most knowledge of cardiovascular disease receives the $2,000 Caroline Grace Russell Memorial Scholarship as well as the title of "Sweetheart of the Ball." Additional awards are given for leadership, volunteering, fundraising and the very special Catie Cooper Spirit Award, created in memory of 2010 "forever sweetheart" Catie Cooper who was tragically lost during her tenure as a sweetheart.
Throughout the program, the young ladies participate in heart-healthy activities and educational opportunities which include fundraising for the American Heart Association, volunteering at National Park Medical Center, certification in infant and adult CPR, a cardiovascular exercise day, a tour of the NPMC Cardiac Cath Labs, a LifeNet-sponsored ambulance dispatch ride-Mother/Daughter Luncheon. Sweethearts are also required to write an essay about cardiovascular disease which is graded by an NPMC Cardiology Specialist. At the end of the program, the Sweethearts are presented by their fathers, with whom they perform a specially choreographed dance, at the AHA Heart Ball.
Sweetheart Chair Kathryn Russell is excited about the amount of interest and growth there has been in the program. "The Sweethearts have become ambassadors for heart health and for the American Heart Association, and will serve the community as educators about heart disease this year more than ever. The skills and information that they learn during this program last them a lifetime and contribute not only to their own health, but also to the health of their families and friends."
Caring for our Communities
Serving seniors
Thanks to the "Be a Santa to a Senior" campaign, supported by Saint Mary's Regional Medical Center in Russellville, AR, hundreds of older adults who face poverty and loneliness in Arkansas get gifts of love over the Christmas holidays. Community volunteers gather, wrap and deliver the gifts. Area school children also get in on the event as students in local classrooms write Christmas letters and do artwork on white paper bags that will "wrap" the presents. According to the U.S. Census Bureau, 9 percent of U.S. seniors 65 and older are living in poverty and 27 percent are widowed.
Caring around the world
Willamette Valley Medical Center in McMinnville, OR, serves as a "sister" hospital for a hospital in New Abirem, Ghana in West Africa. Through GhanaHope Foundation, a partnership between McMinnville health care supporters and providers in Ghana, volunteers are working to improve medical care and daily life in the impoverished country. They help provide necessary medical services such as breast and cervical cancer screenings, surgical procedures, medical training for Ghanaian providers, and medical supplies and equipment.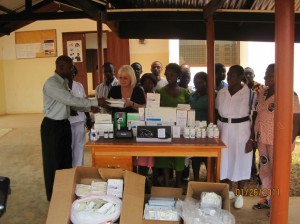 Teams of volunteers from McMinnville have travelled to Ghana to perform surgeries on cleft palates and cleft lips as well as to help people with diabetes and high blood pressure. WVMC has also hosted a visit from a Ghanian doctor who came to Oregon to learn about US medical facilities and practices.
WVMC has donated 11 crank-operated hospital beds and bedside stands, four birthing beds, six stretchers, three microscopes, a colonoscope and other supplies to the hospital.

Serving cancer patients and their families
With a commitment to provide medical care for every cancer patient, regardless of their ability to pay, but wanting to do even more, Willamette Valley Medical Center in McMinnville, OR, started a foundation more than a decade ago to help patients and their families. The non-profit organization, launched to assist cancer patients throughout northwestern Oregon, gives away approximately $60,000 a year. The hospital provides office space, a resource library, and supports the director's salary.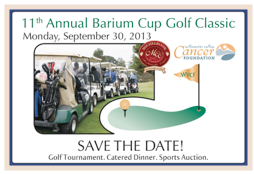 Successful fund-raisers include the annual Barium Cup Golf Classic which raised more than $62,000 in 2013.
"Cancer puts a strain on people's health, their finances, and their families" said Kelly McGraw, Executive Director of the Foundation. "By providing grant assistance to help ease the financial burden while patients are undergoing treatment, they can focus on getting healthy and adapting to huge change. We help with basic needs such as rent payments, utilities, food, transportation to and from treatment, lodging, medical premium payments, prosthetics, and many other means of support."
The Willamette Valley Cancer Foundation also assists patients in connecting with local resources, providing a resource library and participating in educational and prevention activities in the community.
Funding a Cancer Foundation (or "Who's the biggest turkey?")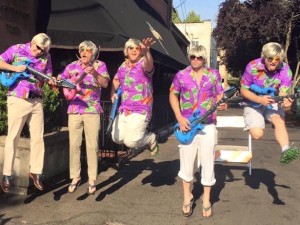 Is Peter Hofstetter, CEO of Willamette Valley Medical Center, really the "biggest turkey" in McMinnville, OR? Well, if you ask his staff that question, it's a resounding YES because they helped him raise more than $22,500 for the Willamette Valley Cancer Foundation through the annual lip sync competition. The Biggest Turkey Contest – or TurkeyRama – is held each year to raise money for local charities. The participating groups raised a new record this year – more than $140,000 – for six local charities.
"Our very generous hospital employees and physicians provided the majority of donations to my campaign," Peter said. "Funds came from personal donations as well as special events like Jean Days, Turkey Tax from the doctors, Flower Sales, Coffee Sales, and Girl's Night Out."
Saint Mary's starts something big with ALS Ice Bucket Challenge
Saint Mary's Regional Health System, based in Russellville, AR, started something big in 2014 when they challenged others to participate in the ALS Ice Bucket Challenge last year in honor of one of their own: Dr. Finley Turner, diagnosed earlier in the year with ALS.
For Capella, it started at the annual leadership awards banquet when three of the company's senior leaders accepted the ALS Ice Bucket Challenge issued by Saint Mary's. Accepting the challenge were President and CEO Michael Wiechart, SVP and President of Hospital Operations Mark Medley and Arkansas Market President Jerry Mabry, who took the icy plunge in front of hospital CEOs and others attending the conference. See the videos on Capella's YouTube channel.
With the cascade of challenges following that, corporate office staff raised $3,000. But that was just a "drop in the bucket" overall since the challenge, which had already gone viral, raised more than $220 million worldwide. The dollars are being used to help fund research to find a cure for ALS (Lou Gehrig's Disease) as well as to support those impacted by the disease.
Corporate staff sets new records in giving, again
Capella Healthcare's 2015 United Way Campaign made an impressive statement about the generosity and compassion of the corporate office staff. In addition to raising significantly more money than ever before, the final total set new records in both average gifts ($912) and per capita giving ($717) with 66 employees pledging $60,207. Employees have been honored numerous times for their generosity.
Building a Habitat House for a Veteran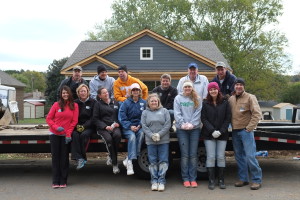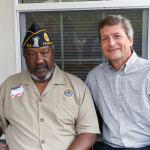 Corporate staff members also worked together during the fall of 2014 to help build a Habitat House. It was Tennessee's 4,000th Habitat build and Habitat Williamson's first ever Veteran's build. Veteran Harold Allen, who partnered with Habitat to build his new home, moved in shortly after the dedication on Veteran's Day.
Harold graduated with the last segregated senior class from Natchez High School, now known as Franklin High. He was raised by his grandmother along with his three sisters and one brother. Though neither his parents or grandparents were homeowners, Harold never gave up on his dream of home ownership. "Thank you for fulfilling my dream of owning a home. I thank God for sending an angel. You have really touched my heart, not only for sponsoring my home, but for all of the other families that are blessed with the homes that you build."
Want to hear Lee Greenwood sing "God Bless the USA" at the dedication ceremony? Check out the video on our YouTube channel: Habitat House Dedication
Hospital honors "A Real Hero"
Five years ago, shortly after Willamette Valley Medical Center in McMinnville, OR, formed its Diabetes Support Group, Director Jill Addison met Leonard DeWitt. Instantly the two hit it off and Leonard and Jill became like family. A Veteran who served the U.S. in World War II, Korea and Vietnam, Lt. Col. Retired Leonard DeWitt fascinated Jill and the support group members with his stories of life, his fight against diabetes, and his love for the USA, along with a few battle stories.
While Leonard had already received a Purple Heart and a Distinguished Service Cross, Jill made it her mission to see that Leonard's service was appropriately recognized in the community and by our country.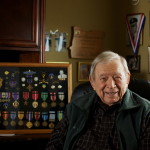 He had been nominated earlier for the Medal of Honor for his actions in single handedly defending the U.S. position in Papua New Guinea against a massive entrenched Japanese fortification. After more than a year of discussions with elected officials and others, Oregon Governor John Kitzhaber recognized the heroic actions of Leonard DeWitt with passage of HJM 17 urging Congress to re-open his Medal of Honor nomination.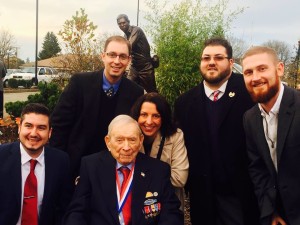 Additionally, through the group's hard work over the past year and half, a non-profit organization was formed – called "Real Heroes" – to recognize Yamhill County's real, everyday heroes like Leonard DeWitt. Working with a variety of organizations, the group raised the funds to erect a bronze statue of Leonard DeWitt to commemorate his "coolness under pressure and gallant actions above and beyond the call of duty."
On December 7, 2014 the bronze statue was unveiled on the grounds of Oregon Mutual Insurance. It will stand in the community as a reminder of the bravery shown by Leonard DeWitt and all of the U.S. Armed Forces that fight for our freedom every day.
If awarded the Medal of Honor, he will donate the medal to the Oregon National Guard Museum in honor of all those current Oregonians who serve under the same 41st "Sunset" Infantry banner.
Educating future health care providers
With a donation of $10,000 to Cameron University, Southwestern Medical Center in Lawton, OK, has established a permanent endowment to help support healthcare education in the Lawton community.
Over the past 25 years, the hospital has given more than $82,000 to the college through various scholarships and sponsorships to Cameron University. This permanent endowment creates a source of revenue for scholarships for many years to come, said CEO Steve Hyde who is pictured here with Albert Johnson, Jr., Vice President of University Advancement at the University.
Fighting cancer through ACS Relay for Life
National Park Medical Center in Hot Springs, AR, has been recognized by the American Cancer Society Thursday for their dedication to the fight for a cure at both the local and state levels. NPMC's Relay for Life team raised more than $21,000 over a year-long fundraising period, making them the top ACS fundraiser in both Garland County and in the Central Arkansas region for the 2014-15 year.
"Our team works very hard every year to raise money and awareness for the American Cancer Society, but this year was a particularly motivating one for us here at NPMC," said NPMC's team captain, Pat Herrin. National Park Medical Center lost 39-year employee, Human Resources Director Sandra Culliver, to cancer in July of 2013. "This was the first year of relay since having lost Sandra. She was—and still is—a major motivation for our team's exemplary efforts for the ACS. Her strength, will to live, and refusal to let cancer take over her life gave us a constant reminder of why we are fighting for a cure, and the daily research, advocacy and programming that the ACS provides is a very worthy cause of our time and our efforts."
"It's a passion for us," said Pat. "Obviously we work in a field where we see the impact of cancer daily. But many of our core team members are non-clinical employees—and I think that's because we want to be able to make a difference for those patients as well. It's a lot of work. But on the night of Relay when we see the track surrounded by luminaries—each representing a person who has so personally fought the fight—and when we watch the survivors lap and the caregivers lap—it's more than worth all of our time, efforts and dollars spent to help find a cure."
Employees, physicians and volunteers at Capital Medical Center in Olympia, WA, have raised thousands of dollars in recent years to help fight cancer through the American Cancer Society's Relay for Life, winning recognition for their work. The money raised comes from various fundraisers, including silent auctions, drawings, and other events held throughout the year.
The Relay actually began in 1985 in Tacoma, Washington when Dr. Gordy Klatt, a colorectal surgeon, ran and walked around a track for 24 hours to raise money for the American Cancer Society. Since then, Relay has grown from a single man's passion to fight cancer into the world's largest movement to end the disease. Each year, more than 3.5 million people in 5,000 communities in the United States, along with additional communities in 20 other countries, gather to take part in this global phenomenon and raise much-needed funds and awareness to save lives from cancer.
Capella's corporate staff recognized for outstanding community support
Capella Healthcare's corporate office was honored by The United Way of Williamson County in recognition of the employees' community support. Capella was honored with a "Most Creative Campaign" award as well as a "Circle of Caring" award in 2012.
"The compassion of our Capella family is truly heart-warming," said Dan Slipkovich. "Our community is a better place every time a child succeeds in school, when families are financially stable, and when people are healthier. I'm so appreciative of our many employees who are helping to make this possible and I thank them for their vision and compassion."
Capella's corporate staff goes "Red for Women"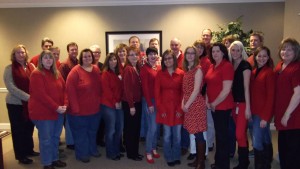 To show their support for people with heart disease and focus attention on the risks for women, many of Capella Healthcare's corporate staff took part in the 10th annual National Wear Red Day®, sponsored by the American Heart Association.
Despite the common belief that women are "protected" from heart disease by their hormones, statistics show that cardiovascular disease is the No. 1 killer of women 20 years and older at a rate of one woman every minute. For those reasons, and some very personal ones, Denise Warren – former Capella CFO – served as a volunteer with the American Heart Association.
"Heart disease kills 1 in 3 women," she said. "I know this all too well — I lost my mother to heart disease in October of 2010. I lost my mother-in-law to heart disease in 2001. My step-mother had five-bypass surgery in September 2009. So for me, it is not a matter of if I have heart disease, but when I will have it."
Since 1984, more women have died of heart disease than men. In fact, every year approximately 267,000 women die from heart attacks, according to the Women's Heart Foundation. In fact, more women die of heart disease than the next four causes of death combined, including cancer.
"These statistics are totally unacceptable, and together, we can change the outlook for ourselves, our wives, our mothers, our sisters and our daughters."
In 2011, Denise was Chair for Nashville's Go Red for Women Campaign, leading the organization to raise $750,000 to fight heart disease, setting a new record in the largest such event in greater Southeastern United States. She continues to make it a priority to educate women about their risk for heart disease and steps they can take to reduce that risk.
Denise was CFO at Capella from 2005-2015.
Capella corporate team helps feed the hungry and homeless

Colleagues from Capella Healthcare volunteered their time at the Nashville Rescue Mission recently. The Nashville Rescue Mission is dedicated to helping the hungry, homeless and hurting,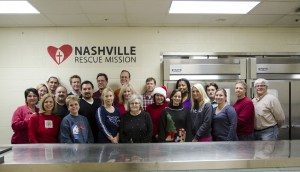 striving to restore hope and transform lives by offering programs that focus on spiritual growth, education, employment and life-recovery.
Visit their website to learn more at: www.NashvilleRescueMission.org
Hospital "Stuffs the Bus" for charity
The Willamette Valley Medical Center in McMinnville, OR, community outreach team wanted to give something back to the community this year, so they asked the community to help "stuff the bus" with food and toys for the holidays. In 24 hours, with the help of more than 75 hospital and community volunteers, the team collected 2,238 pounds of food, 350 toys and $150 in cash.
The food and half the toys will go to the local food bank. The other half of the toys have been donated to Henderson House, a shelter for survivors of domestic violence.
Organizers are thrilled. "We wanted to get out and give something back to the community," said Jill Addison, program director at the hospitals' Wound Care Center and chief cheerleader and organizer of the event. "I heard they were going to cancel the toy event this season because they didn't have enough funding."
Besides the benefit of feeling good about such a success, Jill is looking forward to another payoff: "I've been invited to Henderson House this Saturday to serve breakfast and watch the kids open the gifts we got for them. I'm going to cry, but it will be worth it."
Capella's corporate staff pledges $25,000 in first United Way campaign
COO Keeps Promise to Shave Head
Capella Healthcare's Chief Operating Officer Mike Wiechart puts his money where his mouth is… or at least where his hair was! In kicking off Capella's corporate office United Way campaign in November 2010, Wiechart promised to have his head shaved if the 60+ employees raised more than $10K. He had to pay up on Friday, December 9, when the staff celebrated success.
In a surprising twist, several employees chipped in additional dollars last week to have the privilege of taking just one swipe of Wiechart's hair with scissors, with the highest additional contributor or "bidder" earning the honors of doing the actual head shaving. In all, the staff of 65 raised $25,000.
Wiechart thanked his colleagues for an "amazing inaugural campaign," reminding them that their generosity will "help strengthen and uplift those in our communities who need a helping hand. Meals to school children who would otherwise go without, visits to the lonely elderly, and emotional and physical healing to those victimized by sexual assault are just a few examples of what will be made possible by your incredible generosity."
His final parting words (for his hair): "I regret that I have only one head of hair to give."
Muskogee Auxiliary continues tradition of service
Building on a long tradition of service, the EASTAR Health System Auxiliary in Muskogee, OK, continues to have a tremendous impact on the hospital its patients, visitors and the community. In the past, they've provided hundreds of thousands of dollars in nursing scholarships, purchased new electric transportation vehicles to assist patients and visitors to and from the parking lot, and built children's play centers for waiting rooms and wheelchairs. They helped build and now maintain the Memorial Healing Garden at the entrance of the west campus, dedicated to patients and visitors.
The Auxiliary also sponsored the 30th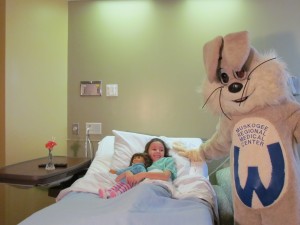 annual "Let's Play Hospital" program for approximately 800 first-graders. The program is designed to alleviate fears of children who would need to come to hospital for surgery. To read more about this and see photos of Well Wabbit, the hospital's mascot, check out this article in the Muskogee Phoenix.
In 2012, the Auxiliary gave 24,615 hours of service, including more than 2,300 from the Junior Volunteers. And they gave more than $45,000 to benefit the community, including the following contributions during the most recent year of service:
$10,745 – 6-passenger Golf Cart for transporting patients/visitors from parking lot
$9,168 – Communication boards for 65 patient rooms
$7,426 – To pay for half of all flu vaccinations used at the "Boo on the Flu" event each fall. The other half is paid for by the Muskogee Medical Foundation.
$5,665 – Two large Sandboxes for Childcare Center
$4,045 – Maintenance of Memorial Garden with seasonal plantings/maintenance
$3,247 – Safescan Target Scanner for the Radiology Department
$2,000 – Nursing scholarship for employees
$1,400 – Cancer Center patient assistance (gas cards, Boost nutritional supplement)
$591 – Vials of Life capsules distributed through EMS Service
$500 – Educational Grant for Muskogee Wellness Initiative through public schools
$516 – Flat screen TV for Cancer Center waiting area
For an update on more recent activities by this outstanding Auxiliary, visit this page of our website:  EASTAR Auxiliary.