Click Here for a Printer-Friendly PDF >>
"It's OUR hospital"
Pride in ownership leads to national quality recognition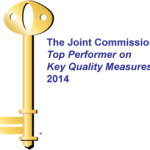 Willamette Valley Medical Center (McMinnville, OR) is nationally recognized for its high quality care, thanks to its outstanding staff who are dedicated to providing amazing care, every time. The 88-bed hospital is one of just 117 hospitals in the nation to be named a Top Performer on Key Quality Measures for five consecutive years by The Joint Commission. They've also been named one of the nation's strongest hospitals in The Hospital Strength Index™ since it began publishing in 2013.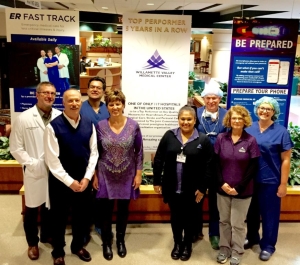 "We have made it our top priority to focus on providing the highest quality of health care by improving upon our evidence-based care processes," said CEO Peter Hofstetter. "I'm so proud of our employees and physicians for this remarkable achievement. As one of only 117 hospitals in the nation to earn 'Top Performer' status for five consecutive years, we are honored."
How did they do it?  In part, it's a pride in "ownership" facilitated by the decentralized management philosophy of Capella Healthcare.  To illustrate, listen to the CEO and a key physician leader discuss accountability.
"Healthcare is very local.  Not all hospitals, systems and companies view local decision-making as the best thing to do for the hospital. That is certainly not true of Capella," says Rosemari Davis, former long-time CEO of Willamette Valley Medical Center in McMinnville, OR, which has been part of the Capella family since 2008.  "I don't think I'd use the word 'empowerment' more than I'd use 'expectation.'  …It's OUR hospital. Capella expects us to run it, to take care of those friends and neighbors, to be involved in the community… and that's how we like it.  Capella may own the bricks and mortar, but it's our hospital.  …Decentralization and local decision-making by physicians and administrators is absolutely pivotal to our success."
Family Practitioner Matthew Bliven, MD, currently serving as Chair of Capella's National Physician Leadership Group, says: "It is our responsibility to run the hospital but we have their (Capella's) ultimate support and all the resources we need to deliver the best care."
Dr. Bliven has practiced medicine in the McMinnville community for a number of years and speaks to Capella's collaborative style.  "I have been involved with the hospital through several ownership changes, and my perspective of the Capella ownership has been really positive.  Their perspective on physician involvement in terms of leadership, decision-making and transparency, I think, that's crucial… Anyone considering becoming a physician in the Capella organization should feel confident that they are supported and not just a commodity."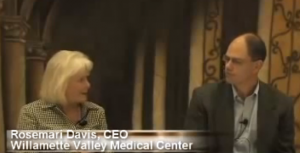 Achieving the highest quality of care is about working together as well as about putting the best practices to work, according to Chief Nursing Officer Connie Pullen. "It's all about hardwiring performance and continually holding people accountable.  You do that, she says, by not making excuses and simply following best recommended practices, such as rounding on both employees and patients.  She reinforces the fact that "Happy employees make happy patients" so you build loyalty with staff first by being available, listening and following up.  Of course, it's vital to hire the right people – those with education and commitment, which is often more important than experience – making sure they fit the hospital's culture.  Then, with everyone on-board and united in the cause,  success is simply a matter of time.
You matter. Amazing care every time.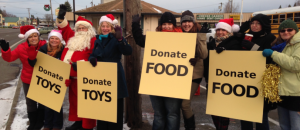 That's the staff's mission at Willamette Valley Medical Center.  According to their most important stakeholders – the patients – they're achieving it. And, objective data from organizations that track key metrics validates it as well.
But it's also about amazing care for their community.  They're also known for their outstanding community support. Willamette Valley Medical Center and its family of employees, physicians and volunteers are proud to support a
number of organizations and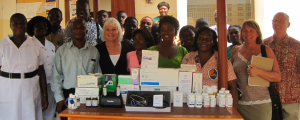 causes, including the Willamette Valley Cancer Foundation. The non-profit organization, launched more than a decade ago by WVMC to assist cancer patients throughout northwestern Oregon, gives away approximately $60,000 a year to help patients with non-medical needs. The hospital provides office space, a resource library, and supports the director's salary. Successful fund-raisers include the annual Barium Cup Golf Classic.
The hospital contributes to a number of other non-profit organizations as well including Boy Scouts, a Family Place, Habitat for Humanity, Henderson House, Juliette's House, Mid-Valley Rehabilitation and many others.  The Community Services Team leads efforts to raise funds for other non-profits — St. James School, Ghana Hope (in which they partner with a hospital in Ghana) and others. And at Christmas they stuff the bus with gifts for the Yamhill Community Action Program (YCAP).
And all that's in addition to the almost $1 million in property taxes the hospital pays each year that helps to fund schools, pay for police and fire protection, and build roads.
It's all about doing good, starting first with the primary mission of providing the highest quality of care.
.