Medley Oversees Hospital Operations for
Capella Healthcare
Franklin, TN (March 21, 2013) – The Tennessee Hospital Association (THA) has presented Mark Medley with its 2013 Small or Rural Hospital Leadership Award.  The presentation was made March 21 at the annual conference for small and rural hospitals held at the Embassy Suites in Franklin.  Medley is President of Hospital Operations for Capella Healthcare.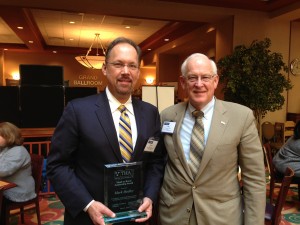 According to Craig Becker, President of THA, who presented the award:  "(Mark) has been an outstanding representative and vocal advocate on behalf of Tennessee's small and rural hospitals. He has been a great supporter of THA's advocacy efforts at the state and federal levels and chairs the THA Council on Government Affairs. Throughout his healthcare career, he has worked directly with over 30 hospitals in 15 states and we are fortunate to have him in Tennessee. He has always been willing to participate and contribute towards any effort to improve the sustainability of rural hospitals in Tennessee."
Medley serves on the THA Board of Directors and began serving on the Tennessee Rural Partnership Board of Directors as it became a subsidiary of THA during 2012. He is a fellow in the American College of Healthcare Executives (ACHE) and serves on the Advisory Council to Tennessee's Regent of the ACHE.  He also serves on the Board of the non-profit Tennessee Rural Partnership Group.  He joined Capella Healthcare in 2008.
"I'm incredibly honored to be recognized by the THA," said Medley. "Working on behalf of Tennessee hospitals that serve patients and their families in the time of some of their greatest need is a privilege.  I want to thank my family for their support that allows me to do what I do.  Additionally, I want to thank my colleagues at Capella Healthcare and our business partners at Saint Thomas Health and Mission Point Health Partners for their support – all of whom are committed to the success of small and rural hospitals in Tennessee.  I was born and raised in  rural Tennessee and realize how critically important high quality and fiscally strong community hospitals are in not only serving individuals' healthcare needs but also the significant contributions they make in their local economies.  As our nation's healthcare system changes rapidly, I look forward to continue serving the staff, physicians, volunteers and boards of our community hospitals and supporting the furthering of their missions."
About Capella Healthcare
Capella Healthcare partners with communities to build strong local healthcare systems that are known for quality patient care. Based in Franklin, Tenn., Capella owns and/or operates 14 acute care and specialty hospital facilities in six states.  With the philosophy that all healthcare is local, Capella collaborates with each hospital's medical staff, board and community leadership to take care to the next level.  The company has access to significant leadership and financial resources, investing in its family of hospitals to strengthen and expand services and facilities. For more information, visit the website, www.CapellaHealthcare.com.
About THA
Tennessee Hospital Association (THA) is the premiere organization in Tennessee that promotes and represents the interests of all health careers, hospitals and health systems. Established in 1938 as a not-for-profit membership association, THA serves as an advocate for hospitals, health systems and other healthcare organizations and the patients they serve. It also provides education and information for its members, and informs the public about hospitals and healthcare issues at the state and national levels. Additional information is available at www.tha.com.
 # # #
For more information, contact:  Beth B. Wright,
VP-Corporate Communications & Strategic Marketing
[email protected] or 615-764-3010