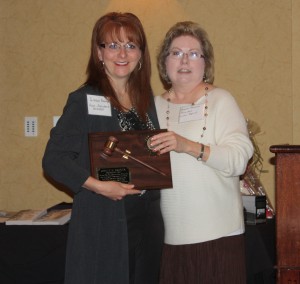 Franklin, TN. April 26, 2013. – Giselle Krieger, Vice-President of Risk Management at Capella Healthcare, was recently honored for her service as President of the Alabama Society for Healthcare Risk Management.
Sharon Cameron, 2013 President, presented Krieger with a plaque at the organization's recent meeting, recognizing her leadership. Krieger will continue to serve the Board as past-president throughout 2013.
Krieger joined Capella Healthcare's corporate office in December 2012. Previously she served as Director of Risk Management and Patient Safety Officer at Parkway Medical Center in Decatur, AL. She holds a Bachelor of Science degree in Nursing from the University of Alabama-Huntsville where she graduated Summa Cum Laude. She earned a Master of Science degree in Patient Safety Leadership from the University of Illinois-Chicago, earning a 4.0 GPA. She is also a Certified Legal Nurse Consultant (CLNC); has a Barton Certificate in Healthcare Risk Management from American Society for Healthcare Risk Management, and is currently pursuing certification in quality from the National Association for Healthcare Quality. Previous roles have included working in case management and surgical care. Additionally, she worked for four years in Saudi Arabia as a Charge Nurse in Emergency Services.
She is a member of Sigma Theta Tau International, the honor society of nursing.